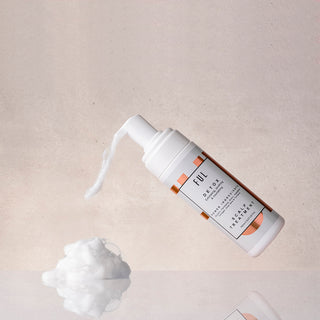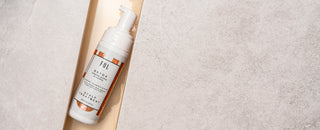 Nourish Scalp
Build your perfect hair care routine to eliminate dry scalps and regain moisture.
Our attention has traditionally been focused on the length and ends of our hair. However, delve a bit deeper – literally – and you'll find the true hero of our hair health, our scalp.
Find out how to best take care of your scalp to eliminate dandruff and dry scalps
Step 1. Shampoo & conditioner
Choose a shampoo & conditioner that helps nourish your scalp.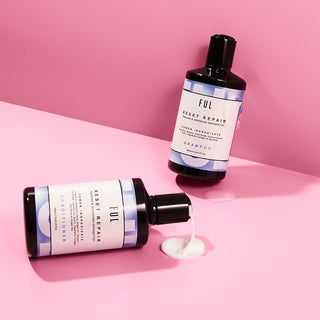 Using a sulfate-free shampoo is important when retaining moisture in your scalp. Sulfates are a type of cleansing agent that can strip your hair of its natural oils, leaving it dry. Look for a sulfate-free shampoo, which is gentler on your scalp and helps to preserve its natural moisture.
FUL Repair Shampoo & Conditoner is formulated with a natural Inulin-based prebiotic derived from Chicory along with a vegetable collagen that will rebalance and restore scalps
To feel the full effect use FUL Reset & Repair Conditoner after shampooing the increase locked in moisture. Packed with, Hyaluronic Acid, Shea Butter and Argan Oil this pH balanced Shampoo & Conditioner will lock in moisture.
Reset & repair conditioner
Step 2. Treatments
Target specific hair goals by adding these products into your hair care routine.
FUL Detox Scalp Treatment works to moisturise and nourish the scalp, helping banish dry flaky skin. Perfect for dry, sensitive and irritated scalps. Key ingredients: Aloe Vera - helps to soothe and hydrate the scalp. AHA Extract - helps to deliver better moisture to the scalp. Turmeric Extract - helps to soothing scalps.
FUL Hyaluronic Acid Serum contains a triple hydration complex of Hyaluronic Acid, Glycerin and natural Betaine enriched with Panthenol and Castor Oil for maximum hydration. Using the humectant properties of Hyaluronic Acid, hair retains moisture helping to improve scalp health and hair hydration.
Step 3. Hair Masks
Using weekly or bi-weekly treatments can help you target specific hair goals.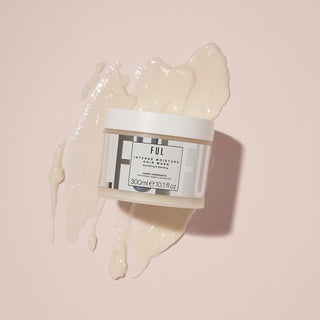 Once you've nourished your scalp it's time for your hair to shine. Use a hair mask to deep condition and target specific hair goals.
FUL Intense Moisture Hair Mask - Targets Dry & Damaged locks
FUL Purple Moisture Hair Mask - Targets brassy tones, Keeps hair conditioned and healthy.
FUL Charcoal Hair Mask - Targets removing excess oil and pollutants, protects against environmental damage & gently hydrates dry hair.
All of our Hair Masks contain hydrating ingredients that deep condition hair, Shea Butter, Coconut Oil, Ricinus Communis Seed Oil, Glycerin. We can proudly say that all of our products are sulphate free, helping to retain your natural oils & moisture in your hair.
INTENSE MOISTURE HAIR MASK
PURPLE INTENSE MOISTURE MASK
Charcoal Moisture Hair Mask
Step 4. Scalp Massagers
Use every hair wash to stimulate blood flow and remove product build up and dead skin cells.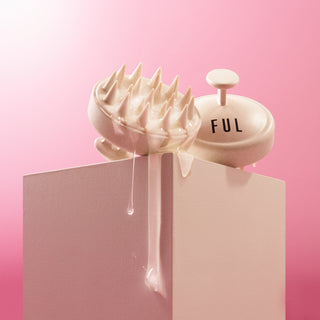 Massaging your scalp is important when promoting a healthy scalp. Scalp massagers can remove product build-up and dead skin cells benefiting hair growth.
Use during Shampoo or your Detox Scalp Treatment to ensure the product is evenly distributed & your whole scalp is left feeling moisturised.
Blog posts
Read more about how to take care of your scalp.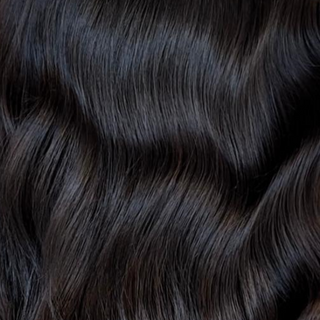 We spend hours selecting the perfect shampoo and conditioner combo, but there's a crucial component that's often overlooked: our scalp. Yes, beneath that beautiful mane lies the foundation of...
When it comes to haircare, we're all about keeping it manageable without losing that all-important sense of luxury. Today, we're unveiling a beauty secret that has become quite...